Children placed in out-of-home care (OOHC) are some of the most vulnerable and disadvantaged in the community. Many have been exposed to multiple traumas from a young age due to family violence, substance abuse, neglect or abandonment, and sexual or physical abuse.
Numerous studies have shown that despite being removed from unsafe environments, once placed in OOHC, too many of these children become unnecessarily involved in our criminal justice system.
Since 2016 we have been advocating for a new approach to reduce the contact kids in OOHC have with the criminal justice system. We found that more than one in three of our clients aged 11–17 who are placed in out-of-home care require help with a criminal matter. Read our report Care not custody: A new approach to keep kids in residential care out of the criminal justice system.
Partly due to this advocacy, the Victorian Government has announced a new plan to reduce young people's contact with police and their entry into the court system. The plan acknowledges the need for therapeutic approaches when supporting young people in residential care (a form of out of home care – usually a unit with paid staff). It also states that criminal charges should not be pursued if there are viable alternatives. We welcome this new approach to vulnerable children and look forward to being part of the implementation group.
The problem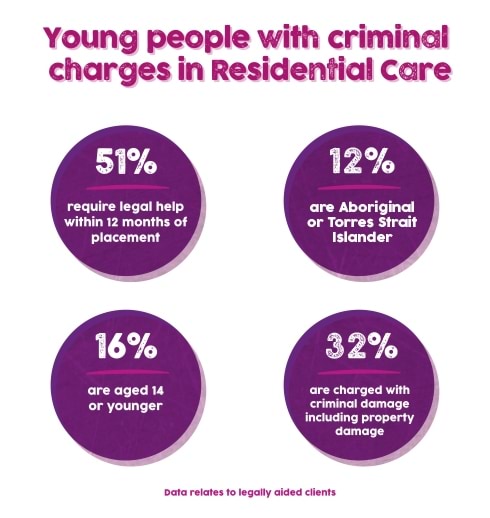 Children placed in residential care are at least three times more likely to require legal help for criminal charges as children in all other placement types (in OOHC or when the child remained with the family).
Of children we assist with a child protection matter who are placed in residential care, our most recent data (from the 2018/2019 financial year) indicates:
51 per cent require legal help for criminal charges within 12 months of placement
12 per cent require legal help for criminal charges and identify as Aboriginal or Torres Strait Islander
16 per cent require legal help for criminal charges and are aged 14 or younger
32 per cent are charged with criminal damage including property damage.
This builds on the evidence from 2016 which showed that:
a clear factor pushing children from care into custody is an over-reliance by some residential care facilities on call-outs to police to manage challenging behaviour by vulnerable children, including those who have been victims of family violence
children are being charged with minor offences, such as smashing a coffee mug, throwing a phone or spreading food around. These would be very unlikely to attract police attention if they happened in a family home
these practices are entrenching children, often from a very young age, in a cycle of involvement with the police and the courts.
Towards a better system – the new framework
Informed by our clients' experiences, since 2016 we have called on the state government to adopt a new approach, similar to Queensland and New South Wales, which explicitly aims to reduce children's contact with police.
The new framework emphasises the importance of trauma-informed approaches to working with young people. It provides decision-making guidance for residential care workers to avoid calling police for low-level incidents. Importantly, it states that charges won't be pursued where there are viable alternatives. We are pleased to support the new framework and look forward to driving change through our role in the implementation group.
Read the full report
Our 2016 Care not Custody report:
gives a brief overview of the residential care system in Victoria and the backgrounds of children placed in residential care
discusses the results of academic studies on the links between out-of-home care and criminal justice outcomes, and the reasons why children in care more frequently end up in our juvenile detention systems
examines the experiences of our clients who are placed in out-of-home care, and the reasons why their interactions with the criminal justice system tend to escalate upon their placement in care.
Read our May 2017 press release to learn more about responses to this research.
More information
Read Care not Custody fact sheet from a September 2018 data analysis of our child protection clients.
Read the Framework to reduce the criminalisation of children in residential care.
For more information about this report, to get involved in this project or share your experience with us confidentially, please contact Olivia Greenwell, Manager of Strategy Family Youth and Children's Law via olivia.greenwell@vla.vic.gov.au or (03) 9280 3701.
Our clients' experiences
Jess (not her real name) grew up exposed to domestic violence. Notifications to Department of Health and Human Services (DHHS) were made from when Jess was a few months old, and DHHS was involved at various stages through her childhood. When Jess was 10, her stepfather started to abuse her, physically and mentally. 'He used to smash things over my head [...] He also used to take everything out of my room that could entertain me. I was just told to sit there. I was only allowed out for dinner. I was then told to go to bed. This happened for about a year'.

Jess was eventually placed in out-of-home care aged 13 when her school found out what was happening to her. After being moved through multiple foster homes, she was placed in residential care. She describes being in residential care as initially feeling like she was in jail. She was a 'scared little kid' and 'didn't talk to anyone'. She was surprised to find cupboards were locked and she wasn't allowed to use the phone.

In the next unit she was moved to, Jess had her first contact with drugs and was assaulted by another resident. Feeling no-one cared about her, she went into a downward spiral. She began smoking a lot of marijuana and skipping school. 'I went really out of control at that unit ... Life was nothing. Workers in that unit didn't care about the kids taking drugs. They would just sit in their office'. At the next unit she was moved to, she had a scuffle with a worker and got her first criminal charge. This charge was subsequently withdrawn.

Jess moved unit again, and this time it was a positive change. Staff turnover was lower, and workers at the residence would drive her to visits with her mother. One night, however, she came home late and was grounded for a month. This meant the workers would no longer drive her to see her mother (despite contact being court-ordered), and it was too far for Jess to go on public transport. Jess was trying to improve her relationship with her mother and this upset her considerably.

During that month, Jess got into a dispute with a worker in the unit about using the phone to call her mother. The unit had a policy limiting phone calls to 10 minutes in length. At the end of the 10 minutes, Jess walked off with the cordless phone, and the worker disconnected it. Angry that she couldn't get to see her mother or even talk with her on the phone, Jess threw the phone at the wall. The phone broke, the workers called police, and Jess was charged with criminal damage and discharging a missile. Despite offering to pay for the cost of replacing the phone, Jess now has a criminal record relating to this incident.

Jon (not his real name) was born with multiple difficulties, including autism, an intellectual disability and ADHD. From an early age, he displayed a range of challenging behaviours. His mother, on occasion, had to seek help from neighbours and local police to help calm him down, but the local community understood his problems and he had never been detained or received a criminal charge.

When Jon was 11, his mother was obliged to put him in care temporarily due to doctors' concerns about his escalating behaviour. Due to his special needs, he was placed in a residential care unit over an hour's drive from where his family lived, and case managed from the department's regional office over 200km away. Workers in the unit were ill-equipped to deal with his behavioural problems and constantly called police when he acted out.

On one occasion during his time in residential care, his mother was dropping him off at school after a weekend visit. When she tried to leave, Jon clung on and refused to move. Teachers tried to disengage him but were unsuccessful. Despite his mother's protests that she was happy to stay with him until he calmed down, the care worker called police to have him removed. They pulled him off his mother, kicking and screaming throughout. He was charged with assaulting police and resisting arrest.

On another occasion, Jon was playing monopoly with an 18-year-old staff member from the unit. When the staff member won the game, Jon became very distressed about losing and took off one of his thongs and threw it at her, hitting her in the arm. He followed her into the next room, picked up the nearest objects, a sink plug and a whisk, and threw them at the wall. Jon then went back to his bedroom.

Police were called and Jon was charged with assault on the worker, discharging a missile and criminal damage. Police sought to remand him into custody, but the magistrate refused and decided to take a case management approach, including ordering a Children's Court Clinic assessment – in particular, to have Jon's medication reviewed because a doctor had said this might be contributing to his behavioural problems. Because Jon was in a rural area, the process of arranging an assessment took months. In the meantime, the residential unit continued to report him when he misbehaved and police continued to charge him.

Jon ended up receiving twenty-five charges during the few months he was in care. He was ultimately returned to his family and has not received any charges since.

Mia (not her real name) grew up living with her mother after her parents separated. She loved her Mum, but her Mum had mental health issues and sometimes tried to harm herself in front of Mia. After those incidents, Mia went to live with her father, who was also looking after four of Mia's siblings. Mia found it hard to settle at her dad's place. She was diagnosed with an intellectual disability and complex post-traumatic stress disorder. After a few months, her dad decided that he was not able to care for her anymore, so Mia was moved to residential care. Now 15, Mia says residential care doesn't provide the support and care she craves. 'It's bad because you don't get love there. People just come to work to get the money and go home. There's not many carers that like you and stuff gets locked away, so you can't even get metal forks or glass cups,' she said.

When Mia first moved, a lot of her workers weren't told about her background, disabilities and mental health issues and weren't provided with training on how to manage and support these conditions. She said workers often called police for minor things. 'I was going through a lot of stuff and I got in trouble for stupid things like breaking a plate. It's like the workers thought they had to punish me. It's not fair, it's like they gang up on the kids.'

Mia said while some police treated her with kindness, others were not sympathetic. 'All they think about is, when the police come, charge charge, charge. The police can be mean. They say "calm the **** down" and when kids are upset and crying they say, "stop crying, you're just being a sook."'

Mia is now going to court over multiple charges of property damage. But she believes there are other ways to deal with misbehaviour. 'In three years, I've had two good workers. One of them treats me like her own daughter, she understands and she listens. If you get upset or angry the good ones don't get mad or threaten to call the police on you. They give you a hug, then you get better.'

'The good workers actually really care and they think about you when they're outside of work, like they call you and check in,' said Mia.

When Mia was in care, a much-loved family member stopped contacting her out of the blue and she didn't know why. A year later, she accidentally saw a document that detailed how that person had died from suicide. Mia hadn't been told that the family member had died and how. On discovering the document, Mia got upset and ripped up the piece of paper. She then went into the office to try and find more information about what had happened to her family member. The police were called and Mia was charged with criminal damage for ripping up the paper and burglary for entering the office without permission. Mia's lawyer is trying to have the charges relating to this dropped.

Mia often leaves residential care to see friends and because 'I've had enough there and I feel more free and welcomed in the community,' she said. She is often then placed in secure welfare, a higher security facility.

Mia is hoping to get a job and one day, to travel the world. 'My dream is to go travel the country. I just want to see the whole world. I want to swim with the turtles.'

Mia says young people in out of home care need more understanding. 'Kids in resi want love and to feel welcomed. Not like you're in the gutter just because you're in resi because your family has issues. It shouldn't be like this. Kids are going through hard stuff and if they act badly, they're doing it for a reason.'

Luke (not his real name) is one of several siblings. He loves music and drama. His father is not involved in his life. When his mother's health deteriorated, her children were put into care. When she died shortly afterwards, Luke, aged 12, was devastated and began using alcohol and cannabis to help him cope.

Luke had received cautions and a couple of criminal charges before entering care, but once in residential care, the number of charges he received escalated substantially.

One charge arose when Luke was told he couldn't use the internet because of the offensive language he had used when asking to do so. Luke, then 14, was angry. He threw a cup at the wall and yelled at and threatened the care worker.

About six months later, aged 15, Luke was again charged in relation to his behaviour at the residential unit. He returned to the unit drunk and staff told him he was grounded. Luke was frustrated and threw a plate across the room and overturned a coffee table and stomped on it. Police were called and Luke was again charged with criminal damage.

Bella's (not her real name) father is not involved in her life and her mother has serious mental health problems. She was placed in residential care aged 12 when her mother's illness deteriorated. Bella has a very low IQ and has been moved around multiple schools and residential units.

By the time she was 15, Bella was regularly getting into trouble with the police and courts for her behaviour in the residential unit. On one occasion, she broke into the internal office of the unit and damaged a cabinet and some papers. She was charged with aggravated burglary and criminal damage. In the car on the way home from court, she had an argument with another child and threw a pen at the car door. She was charged with criminal damage.

Another day, after some of her possessions were stolen, she got into an argument with a carer and broke a coffee mug belonging to the unit in addition to smashing some of her own possessions. She was charged with criminal damage. The charges relating to the damage to her own possessions were later withdrawn.

Tamara's (not her real name) parents separated when she was very young, following a history of family violence and substance abuse. She initially lived with her mother and younger sister but was removed from her mother's care following multiple instances of neglect and verbal abuse. Her mother would often disappear for prolonged periods leaving the children to fend for themselves. Tamara would wake up to find her gone and have to skip school to look after her little sister. When her school notified Department of Health and Human Services (DHHS), she was eventually placed in residential care, aged 12.

Not long after her placement in care, Tamara was charged over a scuffle with workers in the unit. She had gone to sleep in her bedroom mid-morning feeling unwell. Around 11 am, one of the residential care workers came into her room and woke her up to tell her lunch would be ready soon. Tamara was upset at being woken up and swore at the worker. The worker then returned with the shift manager, who told Tamara she would have to get up for lunch. Tamara refused and swore and told them to leave her alone.

Rather than leaving Tamara in her room, the manager removed her computer from her room as punishment for swearing. The manager and the worker then attempted to physically pull Tamara out of the bed. When Tamara continued to resist and swear, she was informed money would be deducted from her allowance for aggressive behaviour. At this point, Tamara hit the worker across the face and stormed out into the yard, overturning a pot plant. Police were called and she was charged with assault on the worker.

Anna (not her real name) is an Aboriginal woman from regional Victoria. Anna went into kinship care at 11 weeks old, and just after her 11th birthday, she was taken away from her family and placed in residential care. Within the first four days, Anna was moved three times. 'I have no idea why they moved me so much. In the next four years, I was moved over 35 times from one town to another and all over the place. I never unpacked my bags in the end because I didn't know when I would move again', she said.

With all the moves, Anna lost contact with her family for some time. But living in residential care never felt like home: 'It was the worst time in my life … It's meant to be like a home and a sort of family for you, but there are locks everywhere; to eat, you have to ask, in some places you never knew what staff would be on, so you'd wake up to someone in the house that you'd never even met before. As an 11-year-old, it felt like prison.'

She says normal things, like having a pet, were denied to her in residential care: 'I bought a cat with another kid, and the staff kept trying to take it away from us because you're not allowed to have pets, but it was the best thing, it was sort of therapeutic. When I had a cat, I didn't want to get in trouble because I didn't want to get separated from it.'

Anna got into trouble a few times when she got frustrated or upset. On one occasion, police were called because she walked into an office without permission and she was charged with burglary.

'Once the police arrived, they'd charge you for every little thing, not just one charge, and it was for stupid stuff. The staff would push for the police to take us (to the station) or charge us and they didn't care about the repercussions this has afterwards.'

Anna's experience of living in residential care improved in her final placement when she had the support of permanent staff. 'It felt like the staff actually wanted to be there and with their help, I started to see the light at the end of the tunnel.'

Despite moving so many times and dealing with court processes that the criminal charges brought on, Anna was determined to stay in school. She now has one year before she completes her studies in early childhood education. Working a part-time job waitressing and playing for her local netball team, Anna should have a world of opportunity ahead of her, but she faces barriers others don't.

'When I was at school having a criminal record meant that I always had to go and talk to the principal about what was happening in the unit or my behaviour. But now that I am an adult it's way worse. I can't pass a police check. It's delayed my career because I need to do placements for my studies and need to pass those checks to get a job in childcare.'

Anna says having minor criminal charges from her past makes it harder to live a productive life.

'As a kid in residential care, it feels like all your life you're judged off a bit of paper instead of who you are as a person, and you think once you're out of resi care it'll be different. But the joke's on you, because even once you leave, then there's another bit of paper you're being judged off.'

Please note, Anna was a client of our practice partner the Victorian Aboriginal Legal Service.
Disclaimer: The material in this print-out relates to the law as it applies in the state of Victoria. It is intended as a general guide only. Readers should not act on the basis of any material in this print-out without getting legal advice about their own particular situations. Victoria Legal Aid disclaims any liability howsoever caused to any person in respect of any action taken in reliance on the contents of the publication.
We help Victorians with their legal problems and represent those who need it most. Find legal answers, chat with us online, or call us. You can speak to us in English or ask for an interpreter. You can also find more legal information at www.legalaid.vic.gov.au
Reviewed 10 May 2022